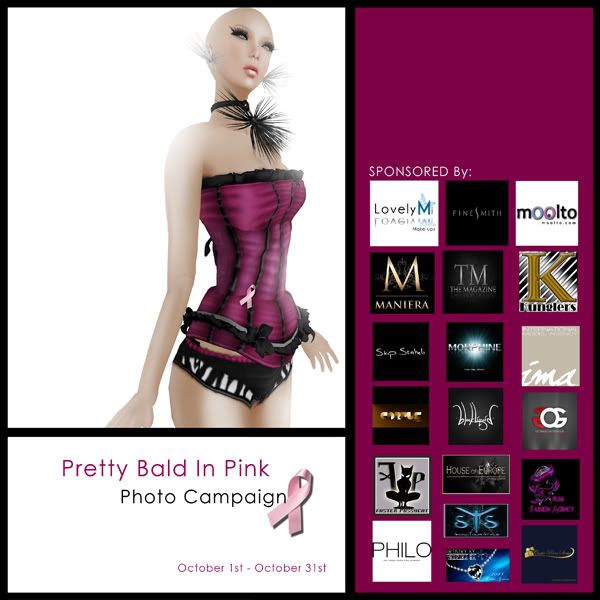 =============================

INFORMATION

=============================
PRETTY BALD IN PINK Photo Campaign
"Getting Bald for a Good Cause"
According to the American Cancer Society (ACS), a woman in the United States is diagnosed with breast cancer every three minutes, and every year approximately 50,000die from this disease.
For this reason we would like to introduce the "Pretty Bald in Pink" Photo CAMPAIGN
This campaign will show some of the most important fashion figures on the grid going bald to show support for the cause. The idea is not to raise money, but to raise conscience and awareness about a subject that concern us all, to some more direct than to others. Remembering those who lost their lifes to this disease, those who suffer from it and those who fight against it.
If you wish to take part of this campaign follow these simple steps.
1. Style yourself in any style you would like to portray. Groups, Couples or singles are accepted.
2. Get completely bald, we mean absolutely no hair on your head.
3. IM one of the photographers in the campaign and ask for an appointment and ask him/her for the pink ribbon and add it to the style you already created.
4. Add your image to the flickr group :)
http://www.flickr.com/groups/1738181@N25/ or the MOOLTO Group http://moolto.ning.com/group/pretty-bald-in-pink-photo-campaign
5. Pass the word around and get others interested :D
These campaign will run only on October, so make sure you make your appointment before the month is over. To join the in-world group copy and paste this following link into Local Chat and join.
secondlife:///app/group/36ebe5f2-28e5-c8cd-8398-83d5a25cb683/about
For a Pink World Without Breast Cancer.
Contact Information:
Information about the campaign, photographer applications and more:
LovelyMiwako7399 Menna
"Pretty Bald in Pink" Campaign Director & Photographer.
SPONSORED BY:
Lovely Mi
MANIERA
Finesmith Designs
House of Europe
MOOLTO.COM
Opium Fashion Agency
IMA Inc.
O-Glam INC.
[sYs]
Skip Staheli Photographer
PHILO
blackLiquid
Faster Pussycat
C O R P U S™ motion
.::MORPHINE Poses::.
The Magazine
Costa Rica Sims
Artistry by ~ E ~